Stone Bench Top Kitchens Sydney
You will find precisely what you are looking for!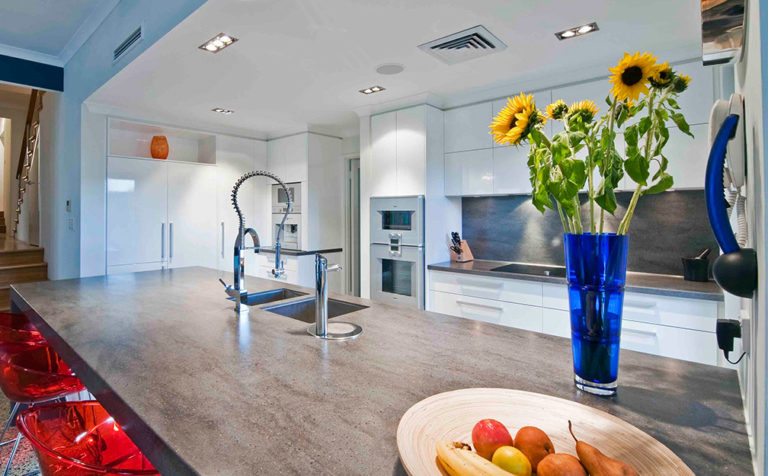 Stone Bench Top Kitchens Sydney
Whether you are renovating or building we will work with you every step of the way to ensure that your new Stone Bench Top Kitchens Sydney will exceed your expectations.
If our extensive range doesn't satisfy, we have many affiliate wholesale stone suppliers all over Sydney that we can direct you to guaranteeing that you will find precisely what you are looking for!
Extensive range of Stone Bench Top Kitchens Sydney
If you have your kitchen plans ready you can send them to us via fax or email and we will have one of our experienced staff quote you on the stone of your choice within 24 hours. If you don't currently have a kitchen plan we will be more than happy to come to your house, measure and quote your kitchen free of charge.
If you don't yet know what type of stone you would like in your kitchen please come in and have a walk around our showroom where one of our qualified staff will spend some time with you and go through all of our sample marble, granite & reconstituted stones until you find exactly what you are looking for.
Once you have chosen the stone for your bench top we will give you a firm quote so you will know exactly how much your kitchen will cost with no surprises later on. On acceptance of the quote and receipt of the deposit (to secure the cost of your stone) we will liaison with you and arrange to pick up an exact template of your kitchen bench top. Then we will get started manufacturing your bench top and work tirelessly to have your kitchen completed and installed within 2 weeks.
From the very first contact to the day we install your kitchen we will work closely with you to ensure that you are as happy with our high standard of work as hundreds of our customers have been in the past. Why wait?
Get free consultation & quote, Call us Now.
(02) 9681 6884