Kitchen Renovations Sydney
face-lift by Aus Joinery Kitchens in Sydney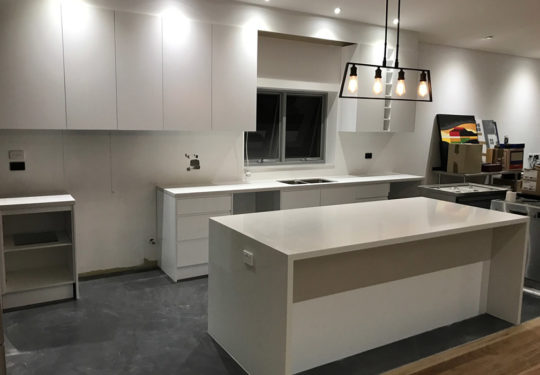 Kitchen Renovations Sydney
Our friendly and experienced team are based in Sydney and will work with you to create a personalised Kitchen Renovations Sydney. We liaise with Sydney industry professionals including electricians, tilers and painters to ensure the quality execution of your custom built kitchen. We make certain superior kitchen design is the key focus and work with each client to incorporate unique renovation ideas. One on one consultation lets you choose the direction you want your custom kitchen renovation to take.
Transform your home's primary living area and make the best use of available kitchen space with one of Sydney's top designs.
Once we agree on the design, specifications and price we will work with you decide on:
Kitchen appliances/type and model/gas or electric
Flooring- timber or tiles
Kitchen bench top selection
Colour and style
Ideas on kitchen lighting
Selecting the oven and dishwasher
The style and design of the kitchen drawers and handles
Kitchen splash-backs
Kitchen storage units
Now its time to commence the kitchen makeover and renovation.
The kitchen is often the most expensive room to renovate and there are many pitfalls to be aware of.
Determining space for the appliances, bench top area and storage are important considerations whilst installing new lighting power outlets are other aspects of properly planning a kitchen renovation.
Initial considerations for Kitchen Renovations Sydney
As professional kitchen renovators in Sydney we use only the most reliable contractors such as plumbers, electricians and trades people.
In some cases we will be restructuring the area of the kitchen floor space, altering the floor or ceiling, adding in a skylight, resizing windows and doors, adding in a pantry and perhaps knocking down a wall to allow for more functional space.
Plumbing and wiring are all taken into account catering for new sinks, taps and kitchen appliances as well a possible ventilation system.
If you are incorporating imported and custom-built fittings/appliances order these well ahead to ensure their timely arrival.
Our organization works closely with many professionals as we manage the overall kitchen renovation.
Architects and interior designers
Environmental designers
Kitchen renovation service or builder/project manager
Plumbers
Electricians
Carpenters
Tiler or bench top/splashback specialist
Flooring installation experts
Painters and decorators
Get free consultation & quote, Call us Now.
(02) 9681 6884