Bathroom Vanities Sydney
Custom Bathroom Vanities Sydney built for your needs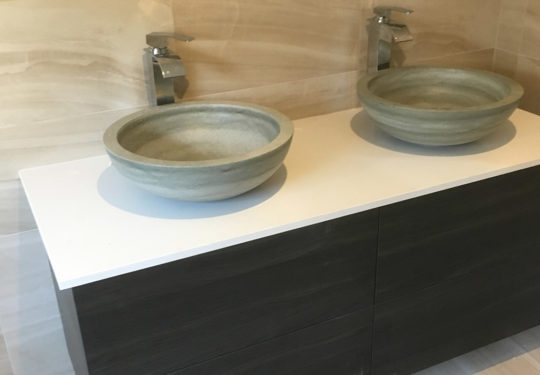 Bathroom Vanities Sydney
Aus Joinery have been building Bathroom Vanities Sydney for over 15 years and can custom build your bathroom vanity units designed specifically to suit your needs and budget for your bathroom renovation project.
We offer you a huge selection of colours, styles and finishes to choose from for your vanity doors, depending on your taste and budget, from lamiwood to timber to polyurethane. You may like a routered door for that extra touch and there are many designs to choose from.
You can also choose your basin, from under mount to semi-recessed to above counter.
A bathroom vanity basin is a great way to transform the look of a bathroom by concealing the water supply pipes and drain pipes that service it, and providing more counter space to apply makeup or shave. At the same time, it will also serve as a cupboard in which toiletries can be stored, making the bathroom look much less cluttered.
Bathroom vanity basin installation or replacement is generally not difficult for an experienced plumber. A hot and cold water supply will need to be extended to the location of the proposed unit from the nearest line if there is not already a supply. Drainage can then be joined to the bath or shower waste. Then it is a matter of connecting up the selected unit, and you will have a new bathroom vanity basin and counter.
Incorrect installation is one of a number of causes of a leaking bathroom vanity basin. If, for example, the unit is not sealed to the counter or around the faucet and taps this may lead to a leak. As with a kitchen sink, a leaking bathroom vanity basin will damage the inside of the unit, and may also damage anything stored in it, like a hair dryer or electric razer. Once discovered, you should have any leaks fixed quickly to prevent water damage.
Get free consultation & quote, Call us Now.
(02) 9681 6884