Bathroom Renovations Sydney
Increase the value of your home with a new bathroom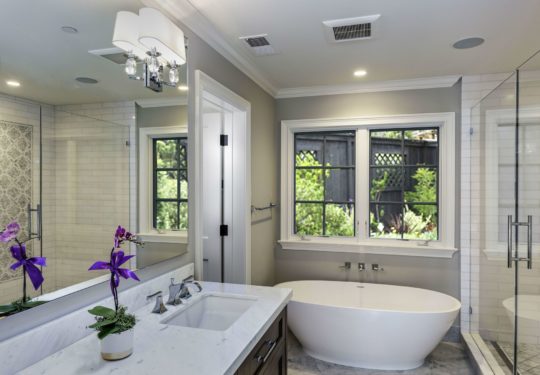 A new look for your bathroom will also add value to your property and will also improve your lifestyle. Simple changes in features such as vanities, colours, and patterns, can create an entirely new appearance, and are always refreshing additions to any property. We work with you every step of the way to create your perfect bathroom that will suit your property and also look modern.
With minimal impact on your living conditions and daily schedules, our friendly, well-presented and punctual team are qualified to ensure your deadlines are met and the quality and the craftsmanship of your bathroom renovations Sydney are second to none.
Aus Joinery Kitchens Sydney have years of experience in developing custom bathroom designs for residential and commercial projects in and around Sydney. Our award winning team is renowned for our custom and unique designs that are creative and elegant. If you need a bathroom makeover then get in touch with us and rest assured that you're in good hands.
Peace of mind with our 7 year workmanship warranty and 10 year waterproofing guarantee.
Whether you are redesigning your old and dated bathroom, requiring a bathroom installation for your new home, or perhaps wanting to include some custom vanity units, the professionals at Aus Joinery Kitchens and bathrooms able to help create a beautiful, designer sanctuary for your home.
The team of expert re-modellers at Aus Joinery bathroom renovations in Sydney have over a decade of experience in bringing old or empty bathrooms to life. They are well versed in bathroom renovations, and have vast knowledge on the installation of projects such as splash-backs and custom vanity units. They are able to take the colours, designs, schemes and dreams in your head and create the bathroom you've always imagined.
Are you ready to take the journey with us? When you contact us, you will get a free consultation and quote as we prepare your project. All you have to is contact us on (02) 9681 6884 or email us on our Contact Us page, and we can get started on your project today!
Get free consultation & quote, Call us Now.
(02) 9681 6884